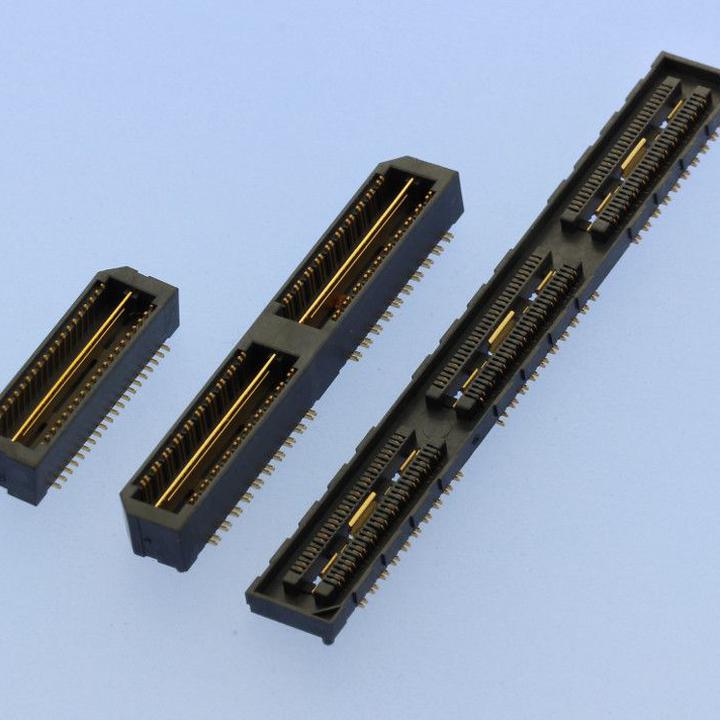 They are used wherever compact stacking of printed circuit boards in limited space is required. We are talking about B-t-B (board-to-board) connectors, which, thanks to their low overall height, guarantee a minimum PCB clearance. As the data rate increases almost proportionally to the shrinking housing size, W + P's new B-t-B connectors also offer an optimal solution:

The SMT series are designed for modern and demanding high-speed applications with up to 28 Gbps, for example in embedded computing or industrial applications. Specifically: Series 5055, with a maximum performance of 25 GB / s, with Series 5088 there are either 14 GB / s fully populated, or 28 GB / s as a paired version, here the transmission of the high frequencies can be done differentially. The differential transmission is far less sensitive to interference due to the paired distribution of the pins, since the coupled pins each send out a signal with the opposite polarity at the same time.

The connectors, designed in a vertical orientation, have a height of 2.05 mm (female) and 4.27 mm (male), which results in a PCB spacing of 5 mm. In addition, the dense contact design in a grid of 0.5 mm (5055) / 0.8 mm (5088) enables developers to save space in constructions where stacking of printed circuit boards is required.

Designed as a plug connector on the plug side, the special housing geometry of the B-t-B components allows reverse polarity contact. The mass is supplied via a centered, electrically conductive surface in the male contact area and by spring contacts on the socket side.

The two-row connectors with 60, 120, 180 (5055) and 40, 80, 120 (5088) contacts are available as fully populated versions; the paired version provides the following distinction: 5055 - 40, 80 and 120 contacts, 5088 - 28 , 56 and 84 contacts.

Positioning aids take over the task of correct alignment at a defined location on the circuit board. Without loss of stability, both series are suitable for at least 100 mechanical mating cycles. The contacts can be used up to a nominal current of up to 2 A, depending on the assignment, for the ground plane it is 7.8 A.

The belted delivery form with film pad enables a fully automatic assembly with processing in the SMT manufacturing process. The insulating body is made of thermoplastic material according to UL94 V-0. Safe operation is guaranteed in the temperature range from -55 ° C to + 125 ° C.

Datasheets are available for download, corresponding samples can be requested free of charge.